Neem (Azadrachta indica)
is a famous plant which is found everywhere in India. It is known by the name hospital pharmacy in rural India where health facilities are not available. Its bark, fruit, seed oil, leaves are used for medicinal purposes. It is very much popular in folk pharmacy.
Properties-
It contains an alkaloid nimbidin because of which it has a bitter taste.
Its oil contains an active compound which shows anti- bacterial and anti-malarial properties.
Its bark contains gallic acid which is anti-inflammatory and acts as an immunomodulator.
Its leaf contains cyclic trisulphide and tetrasulphide which has anti- fungal properties.
Benefits of Neem-
Neem has been used traditionally as an important constituent of Ayurvedic medicines since ages.
Its oil is used to cure leprosy.
If aqueous extract of neem leaves is taken regularly, it is used to cure hyperglycemia thus proving a boon for diabetic patients.
Neem seeds and leaves are effective against malarial parasite- Plasmodium falciparum.
Oil from neem leaves show a wide spectrum activity against a number of Gram positive and Gram negative bacteria including Mycobacterium tuberculosis and Streptomyces strains.
Aqueous leaf extract shows antiviral activity against Vaccinia virus and Measels virus.
Dried neem leaves are used to cure eczema,ringworm. A paste prepared from neem and turmeric are effective in curing scabies.
Its bark is used as an oral hygiene and used for bleeding gums also.
It is considered as a strong insecticide, anti-microbial so it is also used to purify the blood and reduced the growth of acne on face, thus controlling the secretion of sebaceous glands in the face of skin.
Neem trees must be grown everywhere around the residential areas and industrial areas as well as it purifies the air too. Micro-organisms cannot multiply in the surrounding neem trees.
Neem has insecticidal properties that is why it is used in making herbal pesticides also. It is used by Indian farmers to make pesticides.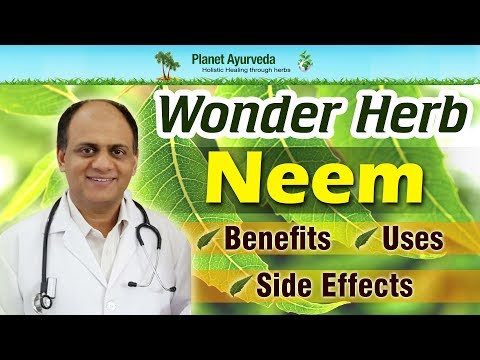 Side - Effects of Neem-
Some people may feel diarrohoea or indigestion after consumption of neem leaves. Patients with the history of gastric problems may use it carefully.
Expectant mothers must take precautions while consuming neem.