ULCERATIVE COLITIS:
Ulcerative colitis
is basically inflammatory in colon and ulcer formation in large intestine in the inner lining of large intestine which is characterized by the ulcer formation then this condition said to be ulcer colitis .Ulcerative colitis is major type of bowel disorder. According to the ayurveda, when vata pushes pitta into colon and create ulcer there. So there is a great imbalance between vita and pitta doshas. Ulcerative colitis often begins gradually and can become worse after some time. Most people have periods of remission times when symptoms disappear that can last for weeks or sometime years.
CAUSE FOR ULCERATIVE COLITIS:
Hereditary problems
Over reactive intestinal immune system.
Environment
Bad eating habits
Stress
Intake of spicy food items
Sleeping disorder
Lack of hygiene
Improper lifestyle
SYMPTOMS:
Uncertain bowel movement
Feeling tired
Nausea
Loss of appetite
Weight loss
Fever
Anemia
Eye irritation
Certain rash
Joint pain
Abdomen pain
Bleeding in stool
Vomiting
Digestion problem
HERBS TO TREAT ULCERATIVE COLITIS:
There are several herbs which show best result in treatment of ulcerative colitis. So following are some herbs used in this disease:
1.
Boswellia serrata:
Boswellia is an ayurvedic herb that is derived from the resin of the plant. The benefits of Boswellia in the treatment of ulcerative colitis have proven a positive result. It has many great properties like anti-inflammatory, anti-allergic and anti-fungal which helps in the curing ulcer from the root.
2.
Licorice:
Licorice is very important herb for the ulcerative colitis .It is very effective in digestive problems. It also helps in healing the injuries in colon. It helps in inflammation occur in colon. It also remove toxins from the body.
3.
Slippery elm:
Slippery elm is a supplement that is made from the powdered bark of the slippery elm tree. It has been used to treat cough, diarrhea, and digestive problems. It has an anti inflammatory property. It also remove toxins from the body.
4.
The wheat grass (Triticum aestivum):
The juice of wheat grass used as in enema and digestive problems .It helps in detoxify the wall of the colon. It also helps in healing the injuries in colon and has anti inflammatory properties.
5.
Curcumin:
Curcumin is a compound in turmeric (Curcuma longa) .It is induce the flow of bile, which helps break down fats. It shows anti-inflammatory activity.It also reduce the secretion of acid from the stomach and protect against injuries.
6.
Bromelain:
Bromelain is an anti-inflammatory. It is used as a digestive aid and a blood thinner. It also give relieve from the inflammation associated with ulcerative colitis. It mainly helps in removing the toxins from the body and make body protective by the infections.
7.
Guggul:
The guggul plant is an anti-inflammatory properties.It also has strong healing properties. It is very effective in curing infections occur in intestine and also remove toxins from the body.
8.
Psyllium:
Psyllium comes from a shrub-like herb called Plantago ovate .It is a mucilaginous fiber due to its gel-forming properties in water. It mainly helps retaining water within the bowel and effectively increases stool moisture content. It also remove the free radicals from the body
9.
Marigold flower:
The petals marigold flowers are useful in the curing the ulcerative colitis .It has anti –inflammatory properties. It also reduces the secretion of acid from the stomach and protect against injuries.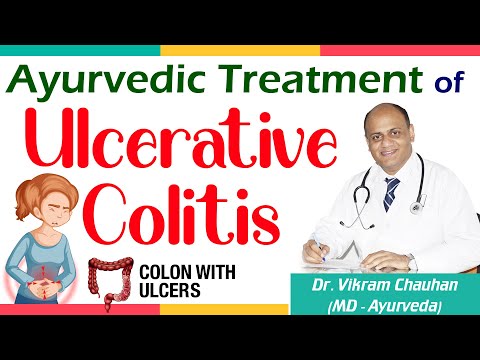 Herbal remedies are able to treat a wide range of acute and chronic GI disorders, including ulcerative colitis.
Herbs mentioned above proven very effective in treating the ulcerative colitis
. This herbal medicine is one of the great medical systems of the world. These will help in to get relief from pain, inflammation and healing the ulcer from root.
Author Bio:-
Dr. Vikram Chauhan is an Ayurvedic practitioner based in Mohali, India. He is spreading the knowledge of ancient healing treatment Ayurveda, not only in India but also abroad. Dr. Vikram has conducted many seminar and workshop on herbal treatment in various nations. Read more
www.planetayurveda.com/curriculum-vitae.htm